Repayment Safeguard and how it can help
Thursday, 7 April 2022
For many, it might feel like purchasing the house and moving in is the end of your home buying journey. However, it is important to understand the long-lasting effect of your home loan repayments and how to ensure you remain ahead throughout the life of your mortgage.
When buying a property and signing off on your home loan, it is important to ensure that the repayments moving forward are within your liveable budget. This means that you have enough for other household expenses, including electricity, council rates, and water, as well as food and entertainment costs.
So that you are aware when applying for a home loan, we have broken down how repayments generally work, and delve into how HomeStart do it differently, where our Repayment Safeguard means you pay what you can afford.

Standard loan repayments
Generally, when borrowing from the majority of financial institutions, the home loans are set according to a loan term and an interest rate.
For example, a loan may have a 30-year term, which means you have 30 years to pay it back – with interest. Repayments are calculated to cover the interest charged to your loan, plus some of the 'principal' part of the loan (the amount you initially borrow). This is called a 'principal and interest' loan.
Loan repayments and variable interest rates
With most lenders, if you have a variable interest rate on your home loan, your repayments will go up or down when the lender's variable interest rate goes up or down. This is because the interest being charged to your loan is applied at that variable rate, but your loan term stays the same.
As you can see in the graph below, the variable interest rate over the past 30 years has fluctuated greatly.
Source: RBA Indicator Lending Rates – F5 March 2022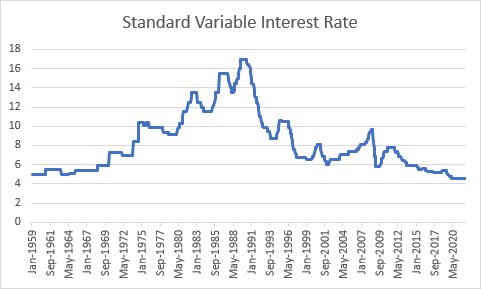 Therefore, if interest rates go up, you'll need to make bigger repayments to pay off the loan by the required time. If interest rates go down, you can make smaller repayments to pay off the loan by the required time.
This is demonstrated in the graph below, where you can see what happens when the loan term changes compared to your monthly repayment when interest rates change. As repayments on a HomeStart loan aren't linked to interest rates, you can see that the loan term alters rather than the repayment amount.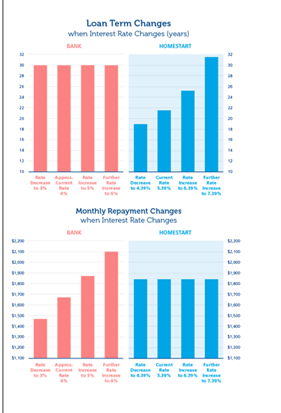 Loan repayments and fixed interest rates
With most lenders, if you have a fixed interest rate on your home loan, it generally means your repayments won't change for the length of time you have the rate fixed. This is because you've 'locked in' an interest rate to be charged to your loan for a set amount of time.
If you have a fixed rate HomeStart Loan, repayments will still be set according to the repayment safeguard.
So what is HomeStart's Repayment Safeguard?
With the current climate of the housing market and the uncertainty in interest rates, it's no surprise that buyers and homeowners are finding it hard to keep the stress out of their mortgage repayments.
This is where HomeStart's Repayment Safeguard comes in. To ensure your repayments are always manageable for the whole life of the loan, we make our loan repayments a proportion of your income. Usually, the only change you'll notice is an adjustment for inflation, which occurs once every 12 months.
However, this does mean that we don't know how long the loan will take to pay off. If interest rates are low, you will be paying your loan off quicker and paying less in total interest (examples 2 or 3 in the diagram). But, if rates stay low, you'll pay off your loan in full quicker than if you were with a bank.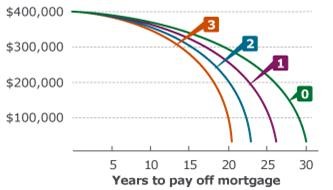 But if rates do go up, it means you're ahead of the game - you're protected from major hikes in your monthly repayments and you have a 'buffer', which means you should still have your mortgage for about as long in total as if you were with a bank (based on long term assumptions for inflation and interest rates). It is important to note, if interest rates are really high and stay high, paying off the loan could take longer and you could pay more in interest like '0' in the diagram, however your actual repayment amount will stay the same.
With HomeStart, you can also make voluntary repayments, change your repayment frequency, or choose a split interest rate. Find out more about HomeStart's repayment options
here
.
To hear more about how HomeStart structures its repayments, we have put together a
video
that explains our Repayment Safeguard in more detail.
If you think that you are ready to begin the home buying journey or make a fresh start,
apply online
or
contact HomeStart today
and take the first step in getting into your own home, sooner.