Build your first home from $3,000*
Instead of buying a block of land and then finding a builder to build your home, a house and land package bundles it all together.This means you can choose one of many standard or customised home designs at the same time you purchase the land.
*Based on a total House and Land Package up to $320,000 (land cost of $130,000, build cost of $190,000) from a participating builder (includes $10,000 builder contribution). Also assumes customer is eligible for the First Home Owner Grant and HomeStart's Graduate Loan. Eligibility criteria, terms and conditions apply. Fees and charges are payable.
 
---
How does it work?
---

Lower upfront costs
House & Land packages can be a good way to reduce upfront costs because:
You only pay stamp duty on the land value and not the house
HomeStart can lend up to 97% of the value of the house and land package to those who are eligible
First house buyers could also be eligible for the $15,000 First Home Owner Grant to put towards your deposit, fees and charges
HomeStart does not charge Lender's Mortgage Insurance (LMI), which could save you thousands on upfront costs.
For example, the table below shows LMI for a $400,000 property, with a $380,000 loan amount (5% deposit):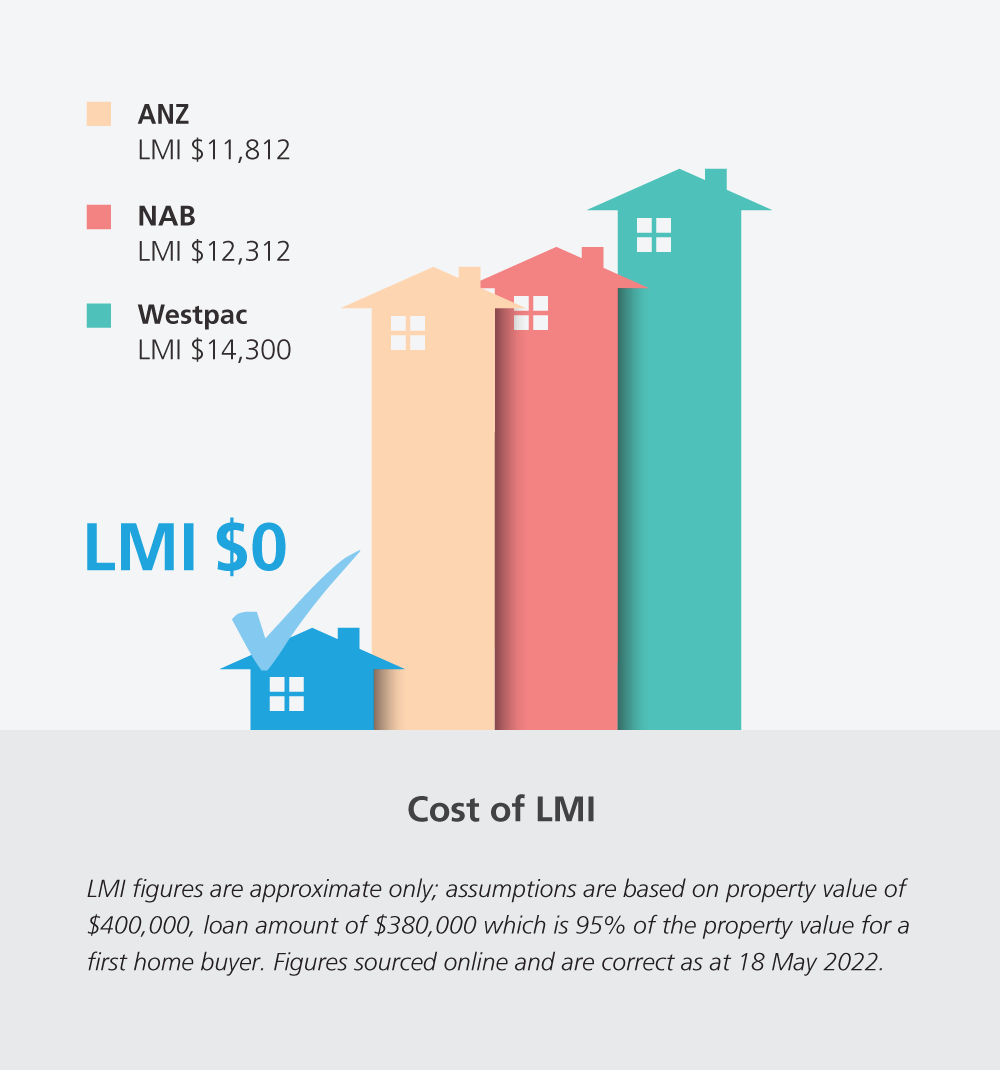 Pay no loan repayments for 9 months or until your home is built, whichever comes first.
When you combine a HomeStart loan with a house and land package from one of our participating builders, you can choose not to make loan repayments for the first 9 months or until construction is complete, whichever comes first. This means you don't need to cover loan repayments, as well as having to pay rent while you wait for your home to be built.
Fixed price and construction period
Our participating builders will commit to a fixed price, prior to approval of your loan of your new home, as well as committing to complete the build within a specified time. This means there will be no surprises, and you can stress less about hidden costs and delays in getting into your new home.
Less progress draws
Builders usually claim 6 progress payments (drawdowns) for the work completed during the construction process.  Each payment adds to the interest cost of the loan. When you combine a HomeStart loan with a house and land package from one of our participating builders there are usually only 3 progress payments, which could save you thousands in interest.
Deferred Land Settlement
A major contributor to the overall cost of a house and land package is the period between settlement of the land, planning & council approval and the commencement of construction. When you combine a HomeStart loan with a house and land package from one of our participating builders, settlement of the land does not occur until all approvals are in place and commencement of construction has been scheduled.
Boost your borrowing power
If you meet HomeStart's eligibility requirements, you may qualify for a subsidised or fee assisted loan that can boost the amount you can borrow, so you can get the home you want, sooner. Find out more at homestart.com.au/loans.
 
---
Where do I start?
---

Explore the following house and land packages and contact the builder directly to discuss HomeStart's low upfront costs options, or register for a call back here.
To see if you're eligible for a HomeStart loan to finance a house and land package, call us on
1300 636 878
.  
Please note this information does not constitute financial advice. It is the purchaser's responsibility to seek advice as to whether a house and land package suits their financial situation and needs.